Sexual Palmistry
What Your Hand Reveals
about Love, Sex, and Relationships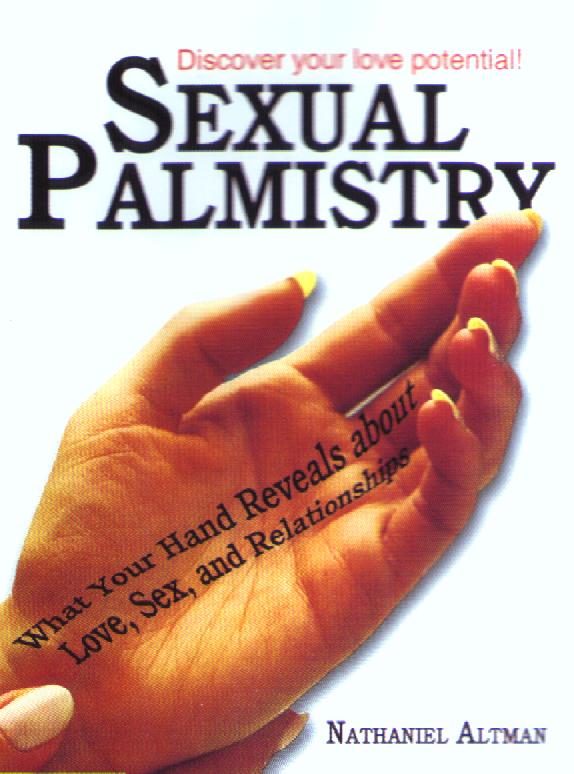 After my first palmistry book - The Palmistry Workbook - came out in 1984, the publisher asked me to write a companion volume that dealt primarily with sexuality, love and relationship. Released in 1986 in Great Britain by The Aquarian Press (which was later taken over by HarperCollins), the original edition of Sexual Palmistry became a runaway best seller, and eventually went through nine printings in three English language editions. It was also published in Italian, German, Danish, Dutch, Spanish and Hungarian; there's even a pirated edition in Thai that I came across at a bookstore in Chiang Mai.
Our hands reveal much about our sexual habits, preferences and proclivities. Our fingers, hand shape, nails and lines have a lot to tell us about what we are like in a relationship, especially when it comes to romance, attentiveness to a lover, how we communicate, and our sexual prowess. Chapters include:

Learn how to recognize the five types of lover
How to understand your sexual personality through the palm
Learn how to gauge sexual energy by reading the hand
Find out your secret turn ons and turn offs
See how homosexuality, s/m, voyeurism and other aspects can be revealed in the hand
Discover your sexual and emotional compatability with your partner
I began reading hands in 1969, and am always learning something new. This American edition is both completely revised and updated, and contains all that I have learned over the years. Factual information aside, I also think that this edition is a lot more entertaining and better designed than the original. It's filled with easy-to-follow explanations and hand diagrams that make reading your palm- or that of your lover- a snap.
This edition of Sexual Palmistry was also published in Finnish, Arabic, Chinese and Greek.
Sexual Palmistry: What Your Hand Reveals about Love, Sex, and Relationships . Adams Media, December 2002. Paper, 208 pages. $12.95. ISBN 1-58062-790-0. To order Sexual Palmistry, click here.
To return to the Books page, click the image.