Healing Springs: A Taking The Waters Q&A
by Nathaniel Altman
People have been enjoying  hot springs and mineral waters for health and pleasure for thousands of years. Although most of us believe that hot springs and mineral springs are found mainly in Europe and Japan, there are over two hundred commercial springs here in the United States, (including several here in New York State), along with thousands of smaller ones. In European countries like France, Germany, Italy, Russia and the Czech Republic, therapeutic hot springs bathing (balneology) is considered part of the medical mainstream. Health facilities at hot springs are often connected to leading university research centers, and national health insurance pays for treatment. However, with the exception of a core group of dermatologists, the medical establishment in the United States and Canada generally frowns on the therapeutic value of hot spring bathing. In contrast to European spas, medical claims cannot be made for American hot springs, and their use is restricted to recreation, relaxation and stress reduction. On the following pages, we will explore the little-known world of healing waters and see how they can help us achieve our full health potential.
Q: What are healing springs?
A: Healing springs (which may be of different temperatures) often contain minerals or gasses that are absorbed into the skin in minute amounts, where they provide nourishment or stimulate different body processes. Depending on the chemical composition of the water, researchers find that bathing in a warm mineral spring increases metabolism, stimulates digestion, helps heal the skin, or strengthens the immune system. For example, bathing in water that is rich in sulfur (often found in California springs) is prescribed for treating skin diseases like psoriasis and dermatitis.
Q: It seems that humans have always felt a natural affinity for water and that we instinctually know that it's good for us.

A: We are "water beings" and water is our natural element. Our bodies contain about seventy percent water, and we need to consume sufficient water every day in order to survive. Psychologically, hot springs are extremely soothing: our first home was the liquid environment of our mother's womb, so warm water bathing allows us to recall primal feelings of comfort and safety. This is why some feel that when they bathe in a natural hot spring, they are enveloped by the womb of the Earth Mother.
Q: How long have people been going to hot springs?

A: Although there is evidence that humans have been using hot springs for over 600,000 years, the practice of using natural mineral spring water for the prevention and cure of disease can be traced back about 5000 years ago to the Bronze Age. Many early hot springs were considered "special" by our human ancestors, who often believed them to be the abodes of deities, including the Greeks, Romans, Celts and Mayans. Many European spas began their development during the Middle Ages. By the mid-nineteenth century, spas like Vichy, Baden Baden and Epsom were favorite summer destinations for European royalty. Napoleon was said to have ridden his favorite horse into a spring at Piešťany (in Slovakia) while Queen Victoria would visit Wiesbaden spa in Germany every summer in disguise, hoping that no one would recognize her. 
Q: Is it true that many of the hot springs in North America were originally Native American sacred sites?

A: Nearly all of our present-day hot springs were first discovered by native peoples, who believed them to be sacred places for healing and peace, open to all. The waters in Hot Springs, Arkansas, originally known as "The Valley of the Vapors" were considered sacred by the Tunicas people, while the Mohawks called Saratoga Springs "Medicine Springs of the Great Manitou." The Iroquois, Shawnee and Tuscarora peoples often bathed and feasted together in what was later known as Bedford Springs in Pennsylvania.
Q: How did they develop after that time?

A: Many early American hot springs resorts were modeled after famous European spas. Some of the most popular included Saratoga Springs in New York; Poland Spring in Maine; Calistoga in California; French Lick, Indiana; and White Sulphur Springs in West Virginia. Most reached their heyday towards the end of the nineteenth century. Some of the Eastern spas were popular with presidents (both George Washington and Thomas Jefferson were avid hot springs enthusiasts) although Franklin Delano Roosevelt was the most famous. He visited Warm Springs, Georgia regularly and swam there to regain strength in his legs. He also founded a rehabilitation center that is still in operation today. As Governor of New York State, he was instrumental in developing Saratoga Spa as a health and rehabilitation center. Other famous Americans, including Daniel Webster, Robert Louis Stevenson, Mark Twain and Edgar Allen Poe frequented mineral springs in the Eastern United States. The hot springs of the West attracted more colorful clientele, including Buffalo Bill Cody, Butch Cassidy and members of the Hole in the Wall Gang.
Towards the mid-1900's, however, many American spas went into decline as faster-acting drugs for arthritis and rheumatism came on the market. At the same time, vacationers began to favor urban entertainment, theme parks, and seaside resorts like Atlantic City and Miami Beach. Many once-popular spas like Bedford Springs (PA), Eureka Springs (AR) and Ballston Spa (NY) closed down completely, while spas like Poland Spring in Maine became bottling plants.
However, today's growing interest in natural lifestyles, physical fitness and alternative healing have brought about a renewed interest in healing springs. Spa towns that experienced a decline in popularity seventy years ago like Calistoga, Hot Springs, and Saratoga Springs are becoming popular tourist destinations once again. Although government regulations concerning health claims have led Americans to appreciate hot springs primarily for their calming effects and recreational value, many people feel that the hot mineralized water found in these spas have a marked therapeutic effect on their body.
Q: Does it cost a lot to visit a hot spring?

A: The vast majority of commercial hot springs in the United States and Canada charge only a nominal fee (usually between $10 and $20) for day-use, while four and five-star resorts like The Greenbrier (WV), Two Bunch Palms (Desert Hot Springs, CA) and The Homestead (VA), offer accommodation, food and hot spring bathing for $200 a day and up. A 7-day healing vacation in an Eastern European spa town like Mariánské Lázně (Czech Republic) or Piešťany, including a medical exam, balneotherapy, food and hotel accommodation, can cost as little as $50 a day: a similar program in a Western European spa would run between $80-120 a day. Perhaps the best bargain are the hot springs in Budapest, which date from pre-Celtic times: admission (good for two hours) to most of the city's historic spas costs less than $14.
Q: Aside from bathing, what do these places offer?

A: In addition to the curative waters themselves, many of today's hot spring resorts have licensed health professionals on staff, who provide natural and complementary treatments like acupuncture, aromatherapy, massage, mud baths, herbal wraps, fasting programs, relaxation classes and fitness training. Hot springs and mineral springs also appeal to those who seek pleasure and relaxation through delicious cuisine, comfortable accommodations, beautiful gardens and congenial people.
Q: What is the "healing triad"?

A: Balneotherapists believe that there are three primary ways that hot springs can heal: through bathing, by drinking certain types of mineral water in prescribed amounts and by inhaling the warm vapors of therapeutic springs.
Q: What are the major diseases that can be treated at hot springs?

A:  European and Japanese balneologists have identified numerous health problems that respond to hot springs bathing. They includerheumatism, metabolic diseases (especially diabetes, obesity and gout), chronic gastrointestinal diseases, chronic mild respiratory diseases, moderate or mild hypertension, peripheral circulatory diseases (affecting the hands and feet), chronic skin diseases (including psoriasis and eczema), psychosomatic and stress-related diseases, autonomic nervous system dysfunction, vibration disorder, conditions resulting from trauma, accident and sports-related injuries, chronic gynecological diseases, and in preventive medicine and in building up physical strength and general immunity. Therapeutic drinking is often used to treat gastrointestinal, kidney and liver disorders, while inhalation is prescribed for people suffering from sinus problems, asthma and other respiratory problems.
Q: How long does it take to heal?

A: A normal course of therapy at a European spa usually takes two to three weeks. Depending on the symptoms, this may involve therapeutic bathing, drinking, or inhaling mineral water as a vapor or mist, often accompanied by massage, mud packs, physical therapy, aromatherapy and other modalities. Many spas in the USA and abroad offer one or two day relaxation or beauty programs. And if you just want to enjoy the mineral water, its' relaxing effects are experienced within minutes after you enter the pool.
Q: Can hot spring bathing be dangerous?

A: Although bathing in thermal and mineral springs is both healthful and relaxing for the vast majority of individuals, it isn't for everyone. People suffering from diseases involving high fever with progressing or exacerbating symptoms, severe hypertension and uncompensated congestive heart failure, malignant tumor (and cancer in general), serious liver, kidney or circulatory diseases, serious heart arrhythmias (irregular heartbeat) , recent heart attack or stroke, diseases involving hemorrhage and severe anemia, and severe mental illness should avoid bathing in hot springs. Women who are pregnant should check with a qualified health professional before "taking the waters."
Q: How long should you stay in the water?

A; While the recommended time will vary depending on water temperature, European balneologists suggest a fifteen minute bath at 102 degrees F (39 degrees C) for a normal, healthy person. Heat exhaustion can result if you stay in the water too long. Also, avoid soaking in a hot spring alone. And if you are with children or elderly adults, be especially mindful of possible exhaustion or overheating. Do not enter a hot pool if you are under the influence of alcohol or drugs (especially heart medications), and if you feel faint or dizzy, leave the pool immediately. Make sure you drink plenty of cool water (not from the hot springs itself) to avoid dehydration. After bathing, relax for twenty to thirty minutes to enjoy the full benefits of your therapeutic bath.

____________________________________
Nathaniel Altman is the author of Healing Springs: The Ultimate Guide to Taking the Waters (Healing Arts Press). Click the book cover picture for more information.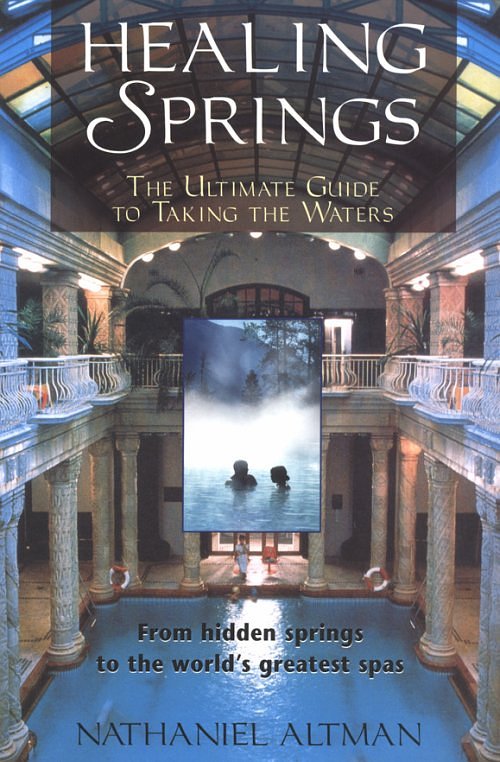 © 2019 by Nathaniel Altman. All rights reserved.