Palmistry
The Universal Guide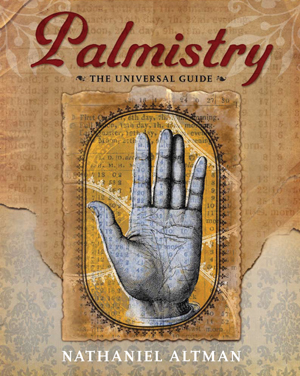 This is my largest, latest and most comprehensive book on hand analysis. Based on The Palmistry Workbook, Palmistry for Lovers, Medical Palmistry (co-authored with the late Eugene Scheimann, M.D.) and Palmistry: Your Career in Your Hands (co-authored with Andrew Fitzherbert), the text has been expanded and revised, and many new graphics have been added. The book is printed in large (8" x 10") format to make for easier reading of the drawings and hand prints.
Palmistry: The Universal Guide contains over 300 pages of text and illustrations. It has been organized into six sections and thirty-four chapters:
Part I. Palmistry Essentials
Chapter 1. The Hand as Hologram
2. Orientation
3. Hand Types
4. Consistency, Size, and Skin Texture
5. Mounts and Valleys
6. The Fingers
7. The Lines
8. Skin Ridge Patterns

Part II. The Hand and Your Inner World
9. Intellect, Imagination, Ideation
10. Will: From Inertia to Action
11. Hand Gestures, Postures, and Movements

Part III. Love, Relationships, and Sexuality
12. The Seven Types of Lover
13. Personality and Sexual Expression
14. Sexual Varieties, Sexual Choices
15. Compatibility in Relationships

Part IV. Your Hand and Health
16. Elements of Medical Palmistry
17. The Basics of Medical Palmistry
18. The Nails in Medical Diagnosis
19. Dermatoglyphics: Their Medical Significance
20. Palm Lines and Markings
21. Alterations in the Hand
22. Diseases of Anxiety Traced Through Palmistry

Part V. Life Task and Spirituality
23. Your Career at Your Fingertips
24. Lines, Mounts, and Career Choice
25. Able Hands
26. Creative Hands
27. Communicating Hands
28. Entertaining Hands
29. Business Hands
30. Healing Hands
31. Other Hands
32. Your Hand and the Spiritual Life

Part VI. Practical Hand Analysis
33. How to Read Hands
34. How to Take Handprints

Although written primarily for those who already have some knowledge of hand analysis, the simple writing style and step-by-step instructions- along with clear drawings and handprints- will also appeal to beginners.
Palmistry: The Universal Guide. Sterling Publishing, Inc., 2009. Paper, 304 pages. $19.95. ISBN: 140274885X. To order Palmistry: The Universal Guide, click here.
To return to the Books page, click the image.