The Cheapskate's Guide to Spas
Over 150 Great Escapes, Romantic Retreats
and Family Adventures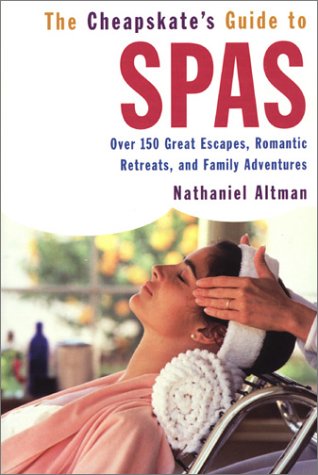 Many people believe that enjoying a spa vacation is only for the rich. And this is not surprising, since most of the spas highlighted in newspaper articles and travel magazines seem to cost an arm and a leg just to stay for the day, let alone to spend the night. I've long believed that selecting a spa is like buying designer clothing. You wind up paying a lot more money for the "cachet" of staying at a brand name spa, even though the facilities and services may be comparable to those you'd find at a lower priced spa resort.
The Cheapskate's Guide to Spas is the first guide to offer readers the lowdown on inexpensive (yet high quality) spas and resorts throughout the United States. The vast majority of the spas described in the guide feature medicinal springs, with special attention devoted to those found in America's premier spa towns like Hot Springs, Arkansas, Truth or Consequences, New Mexico, Saratoga Springs, New York, Berkeley Springs, West Virginia, and Calistoga and Desert Hot Springs, California. Many of the spas highlighted in the guide were originally ancient Native American sacred springs that were re-discovered by European settlers during the 1700's and 1800's; some enjoyed great popularity, only to fall into near-obscurity by the mid-twentieth century. Now they are experiencing a renaissance with new and renovated facilities, excellent spa cuisine, and high quality health and beauty services at prices that won't break the bank.
I was able to visit many of the spas personally. And since the book contains no advertising, I was not beholding to any particular spa and described the facilities and services as I saw them. I tried to present a wide range of spas, including those ideal for personal retreats, weight loss, lifestyle change, romantic destinations and family vacations. Some are among the finest resorts in the country, including The Homestead in Virginia, The Grove Park Inn and Resort in North Carolina, and French Lick Resort in Indiana. I enjoyed gathering material for this guide and feel that all of the places listed in the text are well worth a visit and provide excellent value for the money.
The Cheapskate's Guide to Spas: Over 150 Great Escapes, Romantic Retreats and Family Adventures . Citadel Press, 2002. Paper, 303 pages. $12.95. ISBN 0-80652-318-2. To order The Cheapskate's Guide to Spas, click here.

To return to the Books page, click the image.